Yellow eye-shadow is not for the woman who wants to blend in with the crowd. You need to be bold and confident to pull off this look, but its spring so why not try something new with your makeup?
If you're still 'on-the-fence' about this trend maybe these yellow eye-shadow looks will inspire you..
7 Ways to Rock Yellow Eye-shadow!
..So maybe you think yellow eye-shadow is just a bit too bright, too bold, too much. First, of all you're wrong and to prove my point I'm gonna show you 7 ways you can totally rock the yellow eye-shadow trend!
1. w/ a Curly Updo
Chic and sweet is a neat curly updo with a yellow hue.
2. w/ Nude Lips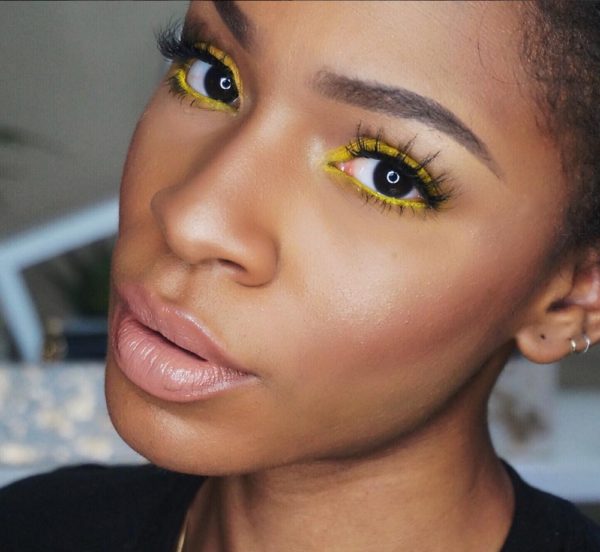 Youtuber Vicky Logan went for a thin yellow color on her bottom lids and opted for nude lips to really pull this look together.
3. w/ Yellow Earrings
If you thought you have to go minimal when you're rocking yellow eye-shadow this beauty influencer crushes that theory.
Just look at how beautiful these earrings are paired with this trend, love, love, love it!
4. w/ Wet Waves
Actress, Margot Robbie bravely rocked this trend on the red carpet with a short cropped bob and wet waves with a nude lip.
If you really want to stand out, why not pair your bold yellow lids with a multi-colored headband, glossy gold lipgloss, and yellow nails.
Would you dare?
Blogger Starryskies created a Nicki Minaj inspired tutorial on her website, using the female rapper's Viva Glam lipstick and yellow eye-shadow.
She created cute pigtails to top off the look.
7. Monochromatic Golden Gloss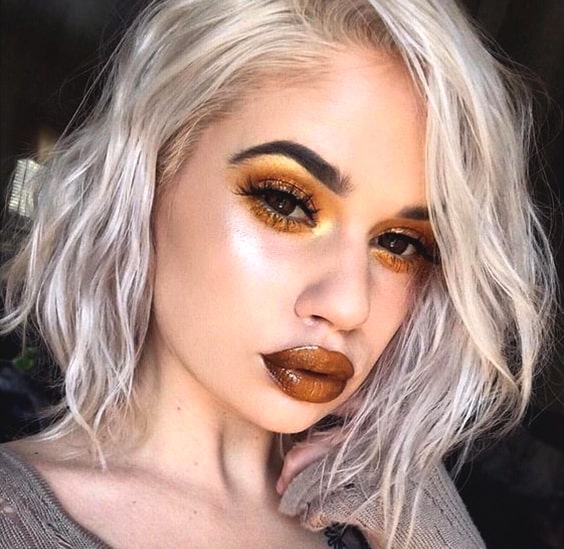 Try this monochromatic trend by daring to pair it w/ bold gold metallic matte lips (HINT: gloss them over if you want the full look as shown.)
Finish your look w/ an ombre heated hue to veil your sunlit eyes.
8. w/ Yellow Lips
Be bold. Be brave. You're ready to rock this trend now.
Thanks for reading! 
Tell us how you would rock this cool and trendy yellow eye-shadow trend. Sound off in the comments.
Check out more from Viva La Vibes: