Makeup can be expensive so we should be able to pull out some life-changing makeup hacks to get the most of what we've paid for. The best thing about it is the fact that they are easy and very convenient to do.
In this post, you'll find 14 makeup hacks to help you with the most common beauty problems. I guarantee you'll be amazed by how stress-free these hacks are!
Life-Changing Makeup Hacks to Remember
1. Turn Your Pencil Liner into Gel Liner for a Smoother Application
Makeup Tricks by Clipzine
Who says you need to have both an eye pencil and a gel liner? It's actually repetitive to buy both since they function just the same although they provide different results. Of course, we know that gel liners give a smudgier finish.
If you don't want to spend on both items, just convert your eye pencil to a gel liner. Lightly burn the tip of your favorite eyeliner. Let it cool for 15 seconds and voila! Instant gel liner! This can even double as a lip liner!
2. Hashtag for Perfect Smokey Eye Makeup
Want the perfect smokey eye makeup for parties but you're not too sure how to do it? Fret not because there's a simple solution to this dilemma. Using a pencil eyeliner, draw a slanting hashtag symbol on your outer corner lid and smudge for an instant smokey eyeshadow makeup.
For a tutorial, check this video from Cosmopolitan.
3. How To Fix Broken Makeup
Throwing broken makeup isn't the solution to your woes. Stop wasting your money as you can still salvage it. The trick is to pour a little 99% alcohol and press it with a spoon.
It may get a little messy but just let it dry overnight. By the time you wake up in the morning, you'll have makeup as good as new! Certainly one of the most reliable life-changing makeup hacks.
4. Use Warm Water to Fix Almost Dry Mascara
Mascaras get dry and clumpy from getting pumped all the time. You can actually get the most out of it by soaking your mascara in a cup of warm water for a smoother and easier application.
If you're in a hurry though and don't feel like you have the time to wait for your mascara to soak in a warm cup of water, try adding 4-5 drops of your eye drop. Stir with the applicator and you're good to go!
5. Make Your Own BB Cream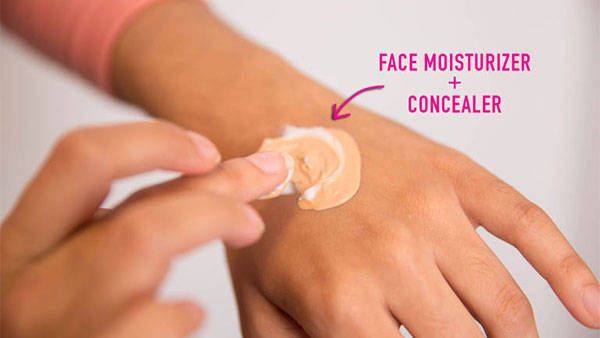 I'm certain most of us have this penchant for BB cream but what if you run out of this dependable makeup item? Well, just do a DIY using your current concealer and save some money. Now, your concealer isn't just for your dark circles.
Take a little bit of your moisturizer and mix it to your concealer until desired texture is achieved. Apply to face and see the magic.
6. Make the Best of Your Eye Shape
Want to know how to do your own eye makeup but don't have the money to take classes? Well, just follow the above illustration on how to apply eye makeup.
Knowing your eye shape and what look you would like to achieve will help you apply makeup effectively. Let this guide help you.
7. Pay Less with MAC Lipstick Dupes
If you can't afford your favorite shade of MAC lipstick, there's no reason for you not to sport it anyway. Okay, it may sound confusing but I'm actually talking about wearing MAC dupes. Drugstore dupes are affordable and available plus they're like replicas of your shade preference.
Check this post to see which products have the same shade of your favorite MAC lipstick at a lower price! Rock a gorgeous lip color without breaking the bank.
8. Double Duty Mascara
Too tight on the budget and can't have all the go-to everyday makeup stash? You don't have to have everything. The best solution is to purchase a product which can serve multiple purposes.
Check the photo above to guide you on how to use your mascara as an eyeliner alternative. It's easy, fast, and amazing!
9. Olive Oil for Longer Lashes
Use olive oil in place of pricey lash lengthening treatments. This is surely one of those life-changing makeup hacks you'll love. Olive oil acts as a conditioner to help your lashes grow strong and healthy.
Use a clean spoolie when applying and you should see changes in a month or two. Just keep going!
10. Fix A Broken Lipstick
I can't count how many broken lipsticks I've thrown after I accidentally dropped them off. Looking back, I can't imagine having to waste all the money when it's in fact so easy to fix a broken lipstick. All it takes is a lighter.
So, take a lighter, burn your lippy a bit. Wait for 20 seconds, and your lipstick is as good as new!
11. The Perfect Winged Eyeliner
Applying the perfect winged eyeliner takes a lot of practice and of course, time. So for ladies who are always on the go, this is one of the beauty hacks you definitely should try. You will only need a hairpin and your trusty eyeliner.
12. Make Your Makeup Last
Do you constantly need to retouch your makeup because of your oily skin? Well say no more—this makeup hack should now be included in your routine. While we may argue buying quality and varied stash is an investment, it still helps to be practical.
So here's a cheaper alternative: baby powder! Brush the excess powder with a blush brush. Who knew this would be a lifesaver?
13. Hassle-free Luscious Lower Lashes
Who would have thought a kitchen utensil would be a great help to our beauty routine? If using a lash curler is a bit difficult for you to emphasize your lower lashes, perhaps a spoon will. This tutorial by Michelle Phan will teach you how.
14. Petroleum Jelly for Multiple Uses
Petroleum Jelly is one of the most versatile beauty product there is. It has many uses including being a part of your makeup routine! It can be a cheaper alternative to an expensive eyebrow gel or clear mascara and instantly turn your matte lip into a lip gloss. Easy and affordable!
For more life-changing makeup hacks, watch this video from xoJahtna:
In this day and age when information is easily accessible, there are so many life-changing makeup hacks we can make use of. They provide effective solutions to problems every makeup enthusiasts encounter.
Pulling out these tricks may come in handy during emergency situations. Not to mention, these makeup hacks will help you save time and money. Now you have this guide, why not try this eye makeup tutorial?
Have you actually tried any of these life-changing makeup hacks? Do you have makeup hacks of your own? Share those with us and to everyone in the comments section below.
Thanks for reading! 
Do you believe the hype? Sound off in the comments.
Check out more from Viva La Vibes:
Featured Image via Girl with Curves