Are you a die-hard fan of Rihanna? Then, would you like to imitate her hairstyles and look stunning amongst your peers? Known from her inspiring music and risqué style; hair chameleon Rihanna has changed her hairstyle on a regular basis, nearly as often as her outfits. A willingness to play around with her look has seen her experiment with bold bobs to red punk pixies and caramel fauxhawks.
So, if you like to know more about Rihanna's short hairstyles, this post is for you! Read on!
1. Red Hot Side-Swept Pixie: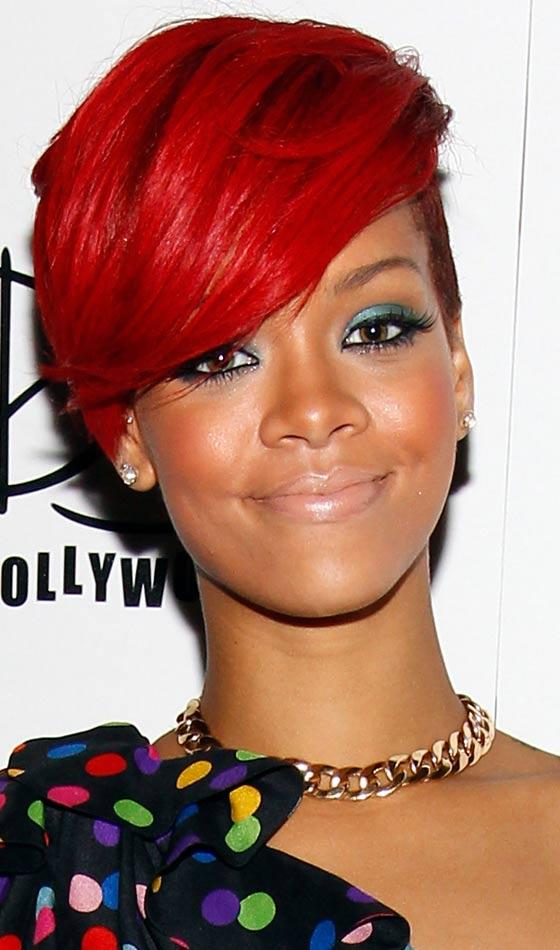 Image: Getty
Rihanna proves there's no hairstyle she can't pull off in this red hot side swept pixie crop.
To recreate this edgy look, simply use volumizing mousse to slick the back of your hair into a bun and leave out a section of hair at the top. If your hair is too short, just pull it back. Brush the top section hair across your forehead. If it's too long, sweep it across and use discreet pins to pin it down behind your ear. For the final look, spritz strong-hold hairspray to keep it securely in place. So, if you're ready for a daring, brave change, copy Bad Girl RiRi's look which is a great hairstyle for women who are bold and always on the go, as it's easy to style.
2. Pixie Cut:
Image: Getty
Rihanna's most successful looks are the ones that showcase her edgy style without crossing the border into trashy, and this pixie cut is by far one of our favourite Rihanna short haircuts and we're sure you'll love it too! The Barbadian beauty's hairstyle is really a flattering look and we adore how the warm, black shade brings out her natural glow. However, what really draws us to Rihanna's style is how closely her hair is cropped in short layers to add that extra dimension and bring all of our attention to her stunning facial features.
[ Read: Best Rihanna Hairstyles ]
3. Caramel Bob With Side-Swept Fringe:
Image: Getty
The master of reinvention – especially when it comes to funky hairstyles – Rihanna is looking breathtaking with her shorter caramel bob mohawk with a side-swept fringe. An easy look to duplicate, the edgy hairstyle is styled smoothly but looks dimensional and the gentle waves add the perfect texture and volume, ensuring it doesn't look limp. Young and Vibrant – We love it!
4. Fiery Fauxhawks:
Image: Getty
We consider RiRi a great ambassador for mohawk look – and she can carry it off well! Here we see the Umbrella singer switching it up for a more elegant yet super edgy look. Shaven at the sides and voluminous in the top, this modern hairstyle is quirky, stylish, and great for heart-, square- and oval-shaped faces. We absolutely love it, and if you're bold enough to wear it, make sure you add tons of volume and go for this sky-high style.
5. Two-Toned Short Bob:
Image: Getty
A great, super-easy way to amp up your funky haircut is by adding some playful texture, a la Rihanna. This gorgeous two-toned short bob is flattering, and can be easily achievable with a good supply of volumizing mousse and anti-frizz serum. The singer's easy-peasy hairstyle with a little boost of volume frames her oval-face beautifully. As for her hair color – the contrasting golden blonde highlights and a rich plum lip adds the final touch to her dramatic look.
6. Pompadour Mohawk:
Image: Getty
There's the pompadour, there's the mohawk, a look most popular from the punk and goth subcultures and there's also the half-shaved hairstyles – Rihanna is definitely no slouch when it comes to trialling a new trend. This hairdo takes a lot of styling, but with flawless makeup, the dramatic effect is totally worth it.
[ Read: Rihanna's Beauty, Makeup And Fitness Secrets Revealed ]
7. Layered Crop:
Image: Getty
By now we're all aware that not only pixie cuts are seriously on-trend, but are RiRi's favourite as well. Here you see Rihanna sporting a layered pixie in her natural hair colour that is playful and chic. If you want to rock this edgy cut, add tons of layers to your side bangs and don't forget to tousle it up. Buy up some good texturizing spray and volumizing mousse to achieve this cute messy masterpiece.
8. Pixie Cut With Soft Waves:
Image: Getty
Growing out a pixie can be a huge pain, but not in the oh-so-pretty Rihanna's case. The Diamonds singer went for a pinned-up, twisted style that immediately gave us a reason to pause. The jet-black mini-curled-mohawk suits her alternative and edgy look, and the glossy waves of hair atop her head add a touch of glamour. This surprisingly feminine, versatile and unstructured hairstyle creates a strong contrast with her flawless makeup, and draws attention to her facial features. Perfect for any occasion!
9. Blunt Angular Bob:
Image: Getty
Wow. Just look at that blunt angular bob. Are you in love? Well, if you aren't, you should be. Literally everyone is opting for the look and loving it. This sexy-longer-in-the-front and shorter-in-the-back hairstyle is fresh and gives your hair freedom of movement, making it seem healthier and more alive. Perfect for a woman with plenty of confidence, the style is suited for women with straight, thick hair, which is easier to keep sleek and in place. However, if you're talented with heat styling and hair products, you can recreate the look no matter what kind of hair you have!
[ Read: Rihanna Tattoos And Their Meanings ]
10. Bowl Cut With Blunt Bangs:
Image: Getty
It's wild. It's exotic. It's drop dead gorgeous. And Miss Rihanna certainly can never stop surprising us. The songstress looks amazing, thanks to the honey blonde bowl cut with hints of black, which complements her green eyes beautifully. Best suited for people with straight hair, with the help of a hair straightener and some shine hairspray – the short, choppy crop with super stylish blunt bangs is easy to manage. Paired with flawless and refined make-up – the ridiculous funky hair is voluminous, edgy and every bit the rock-chic pop-star.
So there you have it – our favourite Rihanna short hairstyles! And we thank RiRi, for she has definitely given every woman the confidence she needs to rock a short haircut! Do let us know what you think about it. Comment in the box below!
Recommended Articles:
The post 10 Trendy Rihanna's Short Hairstyles appeared first on STYLECRAZE.