22 Eyeliner Hacks
It can be smoky and smudged or precise and sharp, but eyeliner is one of the trickiest steps of the makeup routine and one that can make or break a look. Here we show you how to apply pencil eyeliner.
If you're someone who spends hours trying to perfect that wing or struggles getting a straight line on the eyelid, here are some eyeliner pencil hacks that may help you prevent those easily avoidable mistakes.
Eyeliner Makeup Hacks to Know
1. Make sure the skin around your eyes and your eyelids are clean, as this will lengthen the wear time of anything you apply to the eye area. Pick a room with good lighting and find a mirror. Try and have some cotton pads or Q-tips ready.
---
2. Some people prefer to do their eye makeup before their foundation just in case they make any mistakes – this is all down to personal preference.
---
3. If you aren't wearing an eye makeup look just apply a matte powder base eyeshadow, which will even out your skin tone and create an ideal canvas.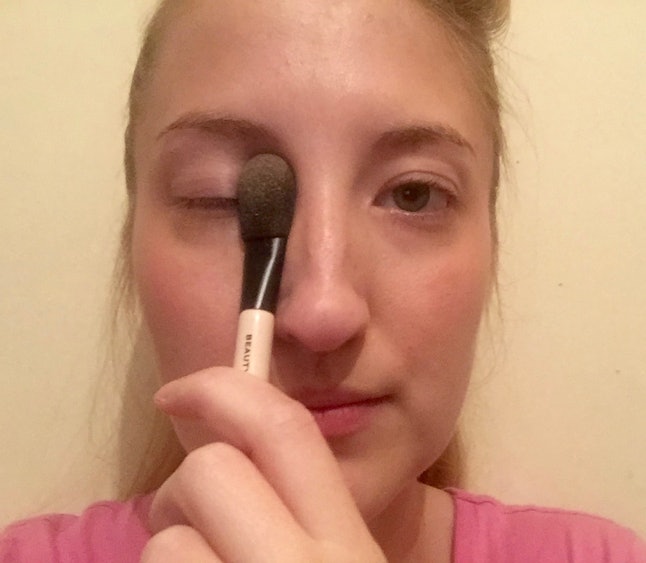 ---
4. Lightly hold the outer corner of your eye, this will assist in applying the pencil eyeliner evenly, but be careful to not tug at the skin.
---
5. Place the pencil closely to your lash line and slowly draw a thin line from the outer corner of your eye. Place more pigment on the outer portion of your eye than on your inner corners, as this will make your eyes look brighter. The thickness of the line is all down to personal preference. The thinner the line is, the more natural it will look.
---
6. To create a thinner line make sure your pencil is fully sharpened, and draw with the side of the point rather than the tip. This allows you to hold the pencil away from your face, making it easier to see yourself in the mirror.
---
7. If you want to try a winged or cat-eye style you'll need to create a thicker eyeliner line. Draw a 45-degree angled line up from the bottom of the eye's outer edge. This line can be as long or as short as you wish.
---
8. When placing eyeliner on the lash line get as close to the lash line without touching the eyes and gently draw the line from the outer corner to the inner corner. The liner on your lower lash should be much thinner – the most flattering size is one-third the thickness of the line on your upper lids. Of course, this is all down to preference, so make it as thick or thin, clean or smoky as you wish.
---
9. If you make any mistakes just gently go back and clear them up with a little bit of eye makeup remover or micellar water, and a Q-tip.
---
10. Extend the life of your eyeliner by setting it with an eyeshadow of the same color that will act as a primer.
---
11. If you are struggling to get that perfect straight line, draw a rough line first and then use a Q-tip and petroleum jelly to sharpen it.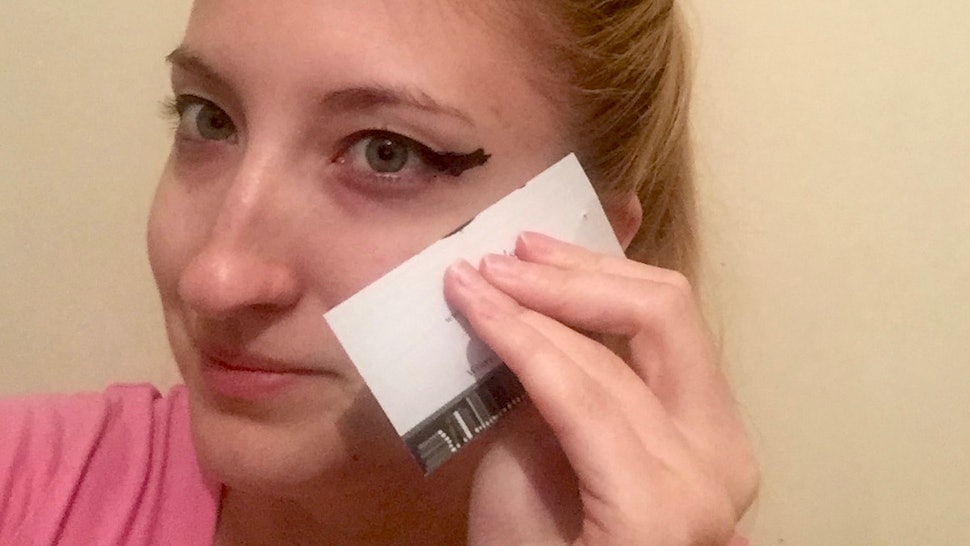 ---
12. Another hack for those who are struggling with executing that straight line is to line your eyes with little dots and then connect them for that perfect line.
---
13. If you find your eyeliner pencil has a crumbly texture, pop it in the freezer for ten minutes before using it.
---
14. Use tape to get a sharp wing. You can also use a spoon or a business card to help with precision.
---
15. If you struggle with shaky hands, plant your elbow on a flat surface and then rest your pinky finger on your cheek as a stabilizer.
---
16. Using a white or nude colored eyeliner pencil on the lower lash will give the illusion of wider and more awake eyes. Also a bold blue or green eyeliner pencil will add a modern pop of color.
---
17. Get even wings every time with the help of a bobby pin. Use a liquid liner to wet the side of a pin and line it up for this essential makeup hack!
---
18. Achieve the perfect smokey eye with a hashtag. Draw one on your outer lid and use a brush to smudge it out.
Courtesy Cosmopolitan
---
19. And just like everything else in life, practice makes perfect. Experiment with colors, shapes and thickness. It might not work but the joy of makeup is it can be wiped off, and you can start again.
Photos via @zavvora, @_joanh, @beautsoup, @thesaraengel
---
20. Turn a pencil eyeliner into a gel formula with the help of a match or lighter.
Hold your black, green, burgundy, etc., kohl eye pencil (which typically creates a thin, harder-to-apply line), under the flame for one second, let it cool for 15 seconds, and then watch the consistency change right before your eyes. Glide on your newly made gel liner for an instantly smudgier formula.
Check out this video for more eyeliner hacks:
Thanks for reading! 
What's your favorite eyeliner hack?
Sound off in the comments.
Check out more from Viva La Vibes: