You love makeup, don't you? And, let's all be honest here – every drugstore visit will inevitably be about ogling at the 'new arrivals' on the cosmetic aisle, and ending up with a handful of products, to say the least. I, for one, do this every single time. My drugstore visits feel incomplete without me meddling with most, trying a few, and purchasing a couple. Some work, and some not so much.
After one such visit, I decided that I should enlist my personal favorites from the drugstore brand that I swear by – NYX Cosmetics, so you can use it as a guide next time you go shopping for makeup.
Best NYX Cosmetics And Makeup Products
Let's go over some of the best selling NYX makeup products in 2017:
1. Strobe Of Genius
Contouring is old news, now it is all about strobing – a technique to illuminate the highlighted areas of the face. When we dug deeper, Strobe Of Genius surfaced as a hot favorite because of its price point and the promise it delivers. This palette comes in incredibly versatile shades, and they are all just as creamy and buttery as the products from the big brands. There is no unwanted glitter, yet it has enough shimmer to give you the pop.
Pros
Longevity.
Milled very well.
Suitable for almost every skin type.
Smooth texture.
Cons
A few packaging issues, when bought online.
Strobe of Genius Review
The reason most customers love this palette is it distinctly shows on pale and light skin tones as well. In fact, it suits medium to deep skin colors just as good. And this comes in a set of eight shades, which makes it easier to work with. Also, you don't have to juggle between too many products. Shades of purple and champagne, when mixed, give a beautiful shade that surprisingly matches most skin tones. The price point of this is yet another strong selling point and a deal you cannot resist.
2. HD Finishing Powder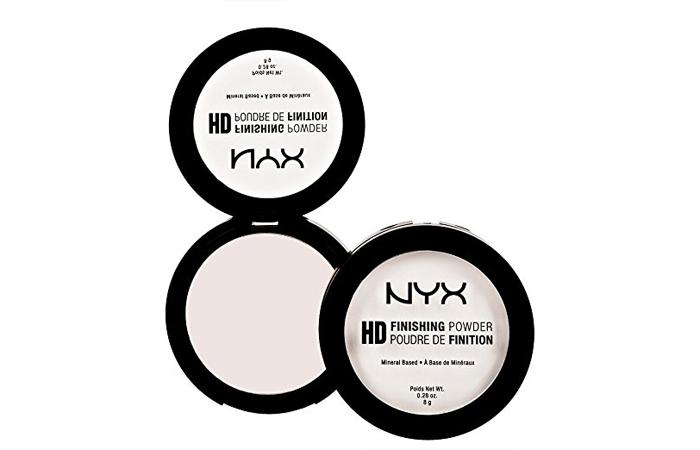 Sealing the concealer has never been this easy. This mineral-based finishing powder is soft and sets and camouflages any thin lines or pores. It works like a charm for oily skin. The slick matte finish gets you photoshoot ready – every day.
Pros
Value for money.
Ideal for lighter skin tone.
Adds a smooth and soft finish.
Gives a natural and matte look.
Works best for oily skin.
Cons
If used over a dark circle concealer, it might give a gray hue for medium skin tones.
Only available in white for now.
Might not be the great idea for dry skin.
HD Finishing Powder Review
The soft and featherlight texture of this product is what we are all drooling over. Customers who were otherwise skeptical about the shade, assuming that it might look like a splash of flour, are quite impressed with the finish. It is not very dusty and is easy to work with; it sticks to the brush, unlike most of the other powdered products. Brownie points from customers with oily skin as it leaves their skin feeling fresh and translucent for a long time. This finely milled product is nothing short of a miracle and works like a charm for almost all skin tones.
3. HD Blushes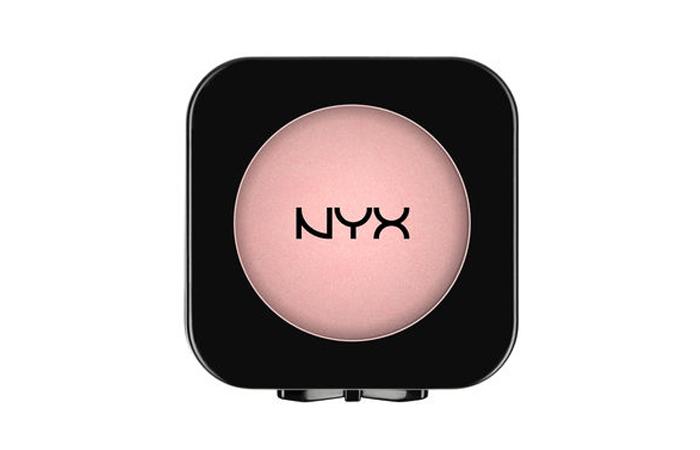 A new extension to their grinding blush product range. Packaged and pigmented differently, this gives a far more refined output than the previous ones. This paraben-free formula is now available in 20 new shades, and most of them have a satin finish.
Pros
Pigmented and long-lasting.
Lightweight.
Easily blendable.
Cons
Can be overpowering sometimes.
Not enough product for the price.
HD Blushes Review
The vibrant yet mellowed down look it leaves you with is the reason it is winning everyone's hearts. You can easily toss this cute, travel-friendly container in your handbag or travel kit. Another deal breaker is that it is 'paraben-free.' Honestly, this seals the deal for me. This luxurious looking blush pan is quite economical and delivers no less than a high-end brand. With an impressive shade card of mauve, pink, gold, and taupe, you will never run out of exciting color options.
4. Perfect Filter Eyeshadow Palette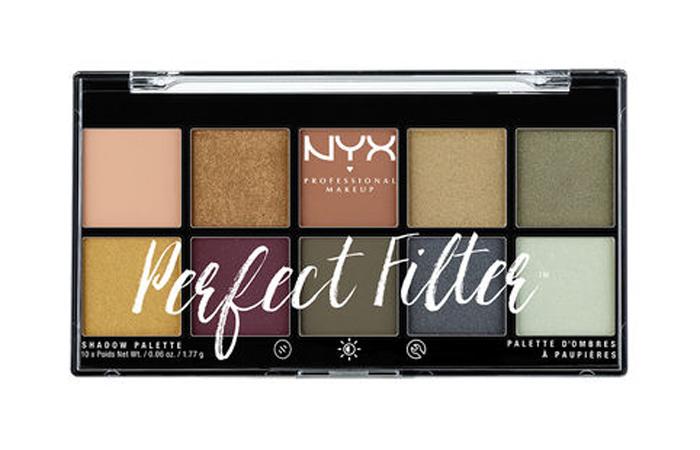 I love eye makeup, and prefer to make my eyes pop while leaving everything else toned down. If you are like me, here's something for us. The all new perfect filter eyeshadow is a new palette with striking color combinations. Each of them is inspired by a photo filter effect.
Pros
Smooth and silky texture.
Great color combination.
Vibrant, but easily blendable.
Crease resistant.
Cons
Need to run the brush over the product more than once.
Not very long-lasting. Needs to be touched-up frequently.
Perfect Filter Eyeshadow Palette Review
Most brands, big or small, make eyeshadow palette combinations with only about two to four shades. NYX Perfect Filter became an instant hit because of its interesting take on the regular eyeshadow. You can mix and match with the 10 different color combinations. It is also a fascinating mix of a few colors that have shine and shimmer and others that are light and subtle. A lot of customers also double it up as a blush – that's how right the shades are.
5. Jumbo Eye Pencil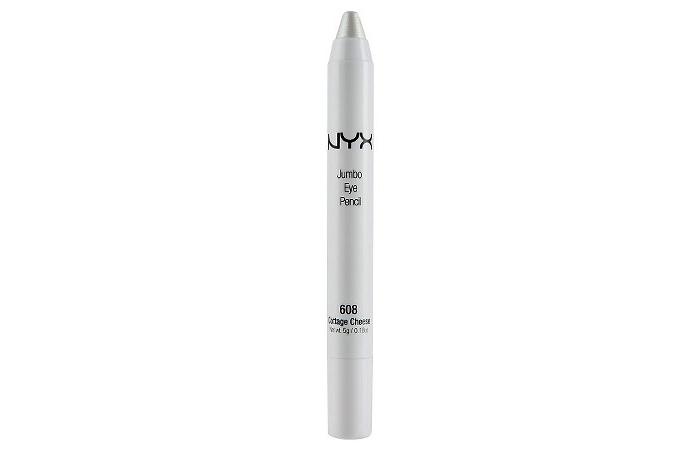 If you're a fan of NYX products, you must have heard of this. If not, you're going to turn into one at the end of this article. This jumbo pencil concept is making everyone go crazy and is topping the charts for 'must-haves' by fashion bloggers. It is an eyeshadow in a creamy pencil format, which also doubles up as an eyeliner. It comes in a huge range of 32 shades. However, white is their bestseller, and you should a get a hold of it, like, right NOW!
Pros
An eyeliner which doubles up as an eyeshadow.
Glides very easily on the skin.
Creamy and soft texture.
Cons
Jumbo Eye Pencil Review
It was a 'love at first swipe' for me. It is creamy and thick, plus it doubles up as an eyeshadow and eyeliner. And it is available at a throwaway price! NYX has shades that work for both day and night, plus they last long. You can probably use an eye primer first, and then glide it on – it stays on all day. It's not sticky, greasy or chunky on your eyes, and we highly recommend it.
Rating: 4.8

6. Concealer Jar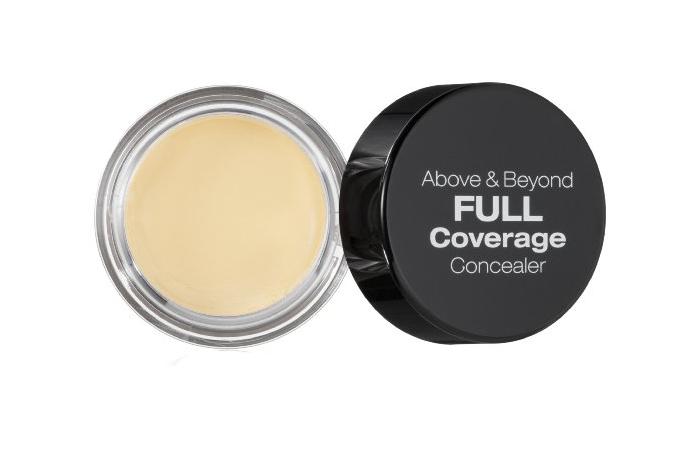 This lightweight and inexpensive concealer gives you full coverage and is available in 12 shades. It comes in a small pot that easily fits into your touch-up kit.
Pros
Easy to take off.
Lightweight and natural looking.
Good pigmentation.
Affordable and value for money.
Cons
Need to apply more than once for good coverage.
Needs to be touched-up after a few hours.
Concealer Jar Review
An excellent concealer that works for all skin tones. It also works as a color corrector and provides an even tone. Beautiful things come in small packages, and this is proof of that! A lot of customers use this lightweight concealer with a foundation and NYX HD Finishing Powder. We tried it and couldn't agree more.
Rating: 4.6

7. Highlight And Contour Pro Palette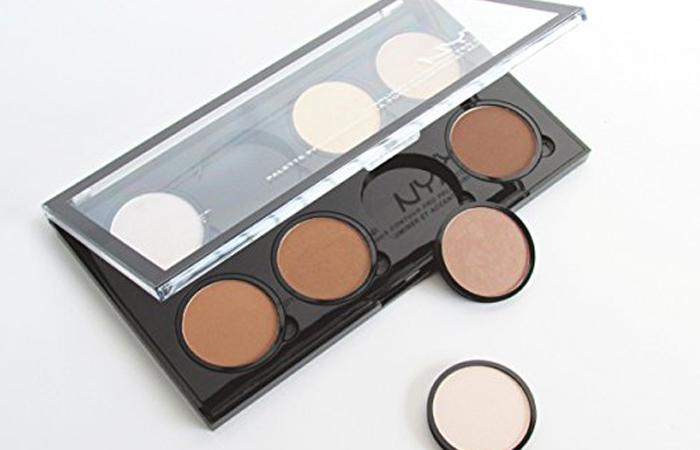 Contouring is one of the easiest ways to highlight your facial features. Initially a far-fetched option for anybody but runway models. Thanks to YouTube, everyone can eventually become an expert with a little practice. And, with brands like NYX, these products are available at prices we could otherwise never dream of. This eight-shaded refillable palette can be customized and replaced with singles to match your taste.
Pros
Creamy texture.
Good pigmentation.
A great contouring kit option for a drugstore product.
Cons
The color tone is not as rich as the other brands.
Highlight And Contour Pro Palette Review
Most of us are guilty of making impulse purchases, with the fear of missing out on something that will magically transform our look. And, more often than not, the price becomes the only issue. Here's something to prove that we have got it all wrong. I know a lot of my friends who owned the Anastasia Palette and got this, and were all mighty impressed with the quality of the colors. Plus, they are refillable!
Rating: 4.6

8. Slide On Lip Pencil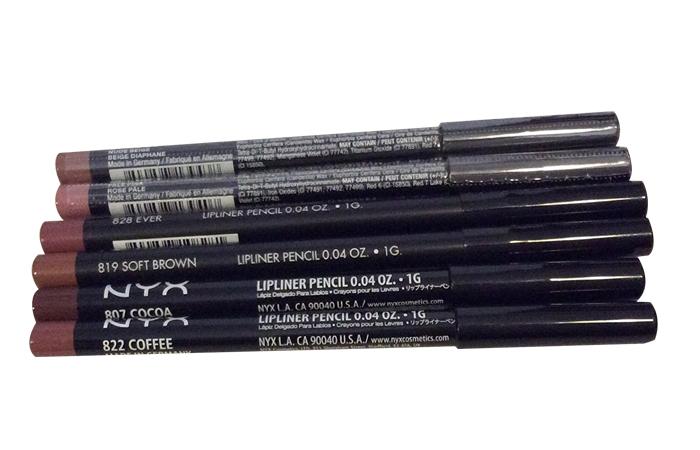 Outline your lips to perfection with these creamy long-wearing lip liners. They don't need a touch-up and are available in six feisty shades that match most of the lipstick palette.
Pros
Glides on very easily.
Long-lasting and creamy.
Good color payoff.
Perfect color range.
Cons
Slide On Lip Pencil Review
I own a lot of lipsticks from various brands, but my lip liners always have to be from NYX. Period. These lip liners are a hot favorite among professional makeup artists as well as amateurs. They are easy to apply, smooth, and creamy. If you want to get a little innovative, it could also replace your eyeliner – all of that in a price range like this! No wonder it is one of their bestsellers!
Rating: 4.9

9. Butter Lipsticks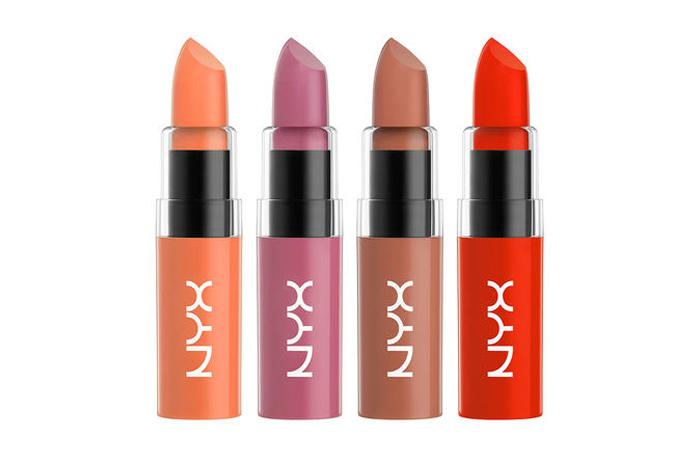 NYX's progressive take on the traditional lip balm is simply amazing. This product keeps the lips hydrated, and is an ideal choice for dry lips. There are so many shades available that there is one for everyone!
Pros
Smooth and hydrating.
Glossy finish.
Feels
Cons
None that we could think of.
Butter Lipsticks Review
It surely lives it up to its name and is a riveting replacement to the lip balm product line. The glossy, but not over-the-top-shiny texture is why customers can't stop admiring it. The nude shades do not disturb the base lipstick color (if you are wearing one), but just add hydration to the lips. All of these have neither taste nor smell, and just like all other NYX products, work like a charm.
Rating: 5

10. Butter Gloss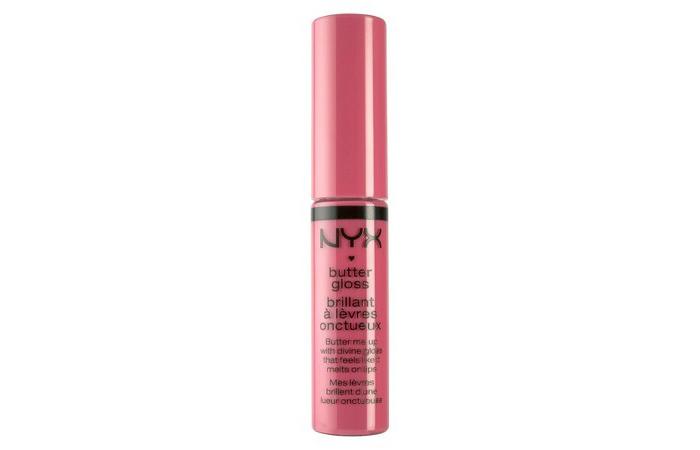 If you are a lipgloss kind of person – who prefers sheen, gloss, and hydration with a tinge of pigmentation on your lips – here's your blessing in disguise. It is light, non-sticky, and sweet-scented. Perfect for any weather; and it doesn't blob up at the corners of your mouth. Considering the vibrant color options and the prices, it's a steal deal. I say, we should all grab at least a couple of them.
Pros
Smooth and hydrating.
Inexpensive.
Pigmented and glossy.
Cons
Not long-lasting, need touch-ups every few hours.
Butter Gloss Review
Lipgloss lovers say that this is one of the best things that happened to them. I tried using a couple of shades, like the strawberry parfait and cherry pie, to understand what the fuss was all about! I am so glad I did that, they could not have named it better! These are scrumptious, buttery, moisturizing, and creamy. A big thumbs up to the NYX Butter Gloss from us.
Rating: 4.8

11. Roll On Shimmer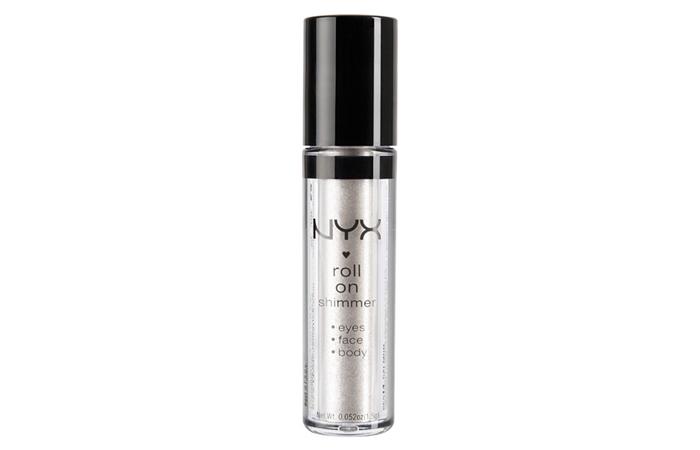 A fun and exciting way to apply your eyeshadow. Ditch the regular shimmer powders and go for this glamorous looking roll on shimmer-infused eyeshadow. Use it to layer the eyeshadow, and you're sure to achieve the perfect look.
Pros
Highly pigmented.
Long-lasting.
Vibrant shades.
Silky texture.
Cons
Can get greasy sometimes.
Roll On Shimmer Review
This roll on shimmer adds the much-needed drama to your eyes. Add a tinge of sparkle to your smoky eyes with this product that most of us use as an eyeshadow plus eyeliner. Customers love how it glides on the skin. They say that you could also use your finger for the application if you want to go a little low on the product. Whatever works for you, get your hands on this one asap.
Rating: 4.5

12. Wonder Stick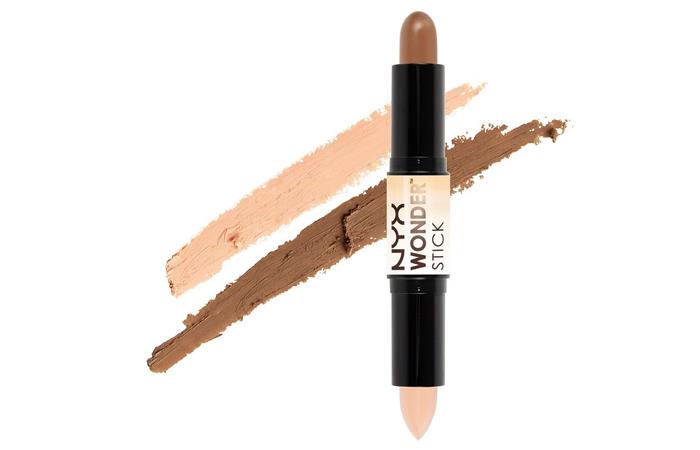 If you are new to contouring and are skeptical about the shades that match your skin tone, here is your savior. With four different shade options, this works for almost all skin tones and is the perfect way to amplify your skin color.
Pros
Very easy to work with.
Perfect for beginners.
Value for money.
Matches all skin tones.
Cons
Needs to be used a few times for good coverage.
Can get greasy under the eyes.
Wonder Stick Review
If you are not big on makeup and always thought contouring was rocket science, here's something that will change your opinion. The contouring palettes can seem overwhelming for some of us. The best part about the wonder stick is that it is uncomplicated. It has a dark shade on one side, and a lighter one on the other. It is durable and long-lasting and value for money.
Rating: 4.4

13. Slide Eyeliner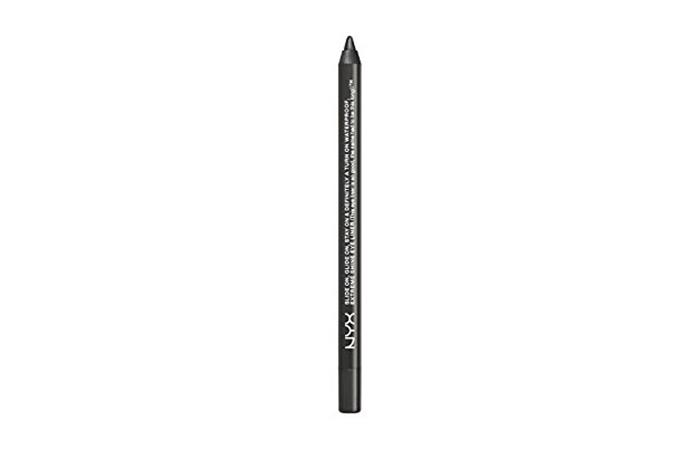 These are waterproof, inexpensive, and colorful. They are a steal deal. They are also smear and smudge-proof, giving you the look of a liquid eyeliner without all the mess.
Pros
Creamy.
Long-lasting.
Inexpensive.
Smudge and smear-proof.
Cons
It does not come with a sharpener.
Slide Eyeliner Review
Customers are raving about it for the way it glides on the skin. If you have either tight or super soft eyelids, this should be your go-to product. It lasts long and comes in such lovely shades. And, of course, this is something you could use on your waterline, and it does not smear or smudge. It works for people with sensitive eyes as well.
Rating: 4.8

14. Makeup Setting Spray – Matte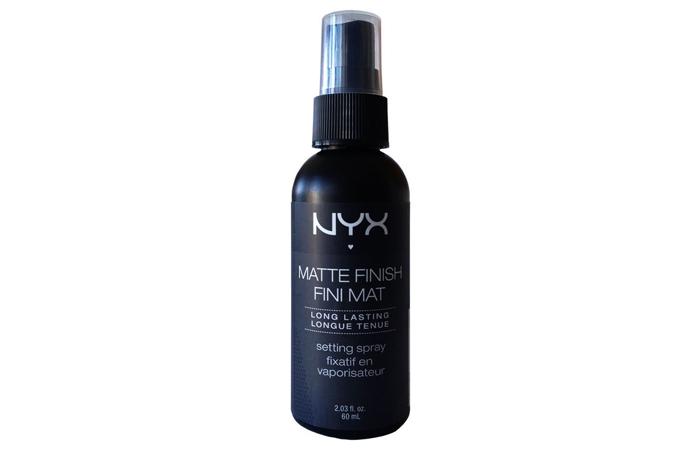 An ideal choice for hot climates, it helps your makeup stay intact. If you don't believe in makeup setting sprays, try it on your foundation or concealer brush, and thank us later. You will love the natural and airbrush finish this product gives. The price is another reason customers love it. Blushes and eyeshadows will last much longer if you seal them with this product.
Pros
Perfect for hot weathers.
Controls oil and absorbs grease.
Natural looking.
Cons
Makeup Setting Spray – Matte Review
According to users, if you know the tricks of the trade, you can easily achieve an airbrushed look with this one. Spraying this product on the brush once before you apply the foundation and about two pumps before you blend the concealer works like a charm. Another reason people are not able to get over this spray is that it is long-lasting and your makeup stays intact. A savior for those with oily skin tones.
Rating: 4.6

15. Micro Brow Pencil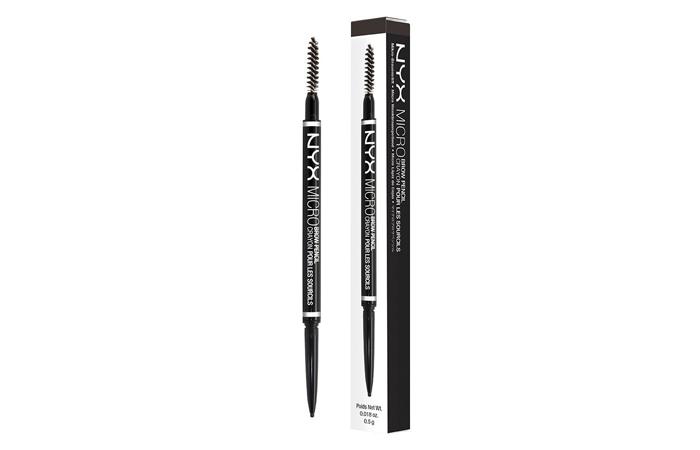 Coating your finest brows for a natural looking finish just got twice as easy. The precision of the brush and the different shades will get you addicted to this, and this is easily one the best NYX products there is.
Pros
Easy to apply and work with.
Variety of colors.
Natural looking.
Good pigmentation
Cons
It is not smudge-proof.
Fades easily.
Micro Brow Pencil Review
If you have been backing out from purchasing a similar product because of the price, here is one from NYX that you can't resist. It is creamy and flows better than most of the other drugstore brands. It is cheaper than the premium brands. So, the way I see it, it's a complete win-win deal. The shades are flawless and blendable. Shades of espresso and taupe are topping the charts for all the right reasons. It is packaged well and lasts at least six hours, what else do we need?
Rating: 4.8

16. Lip Lingerie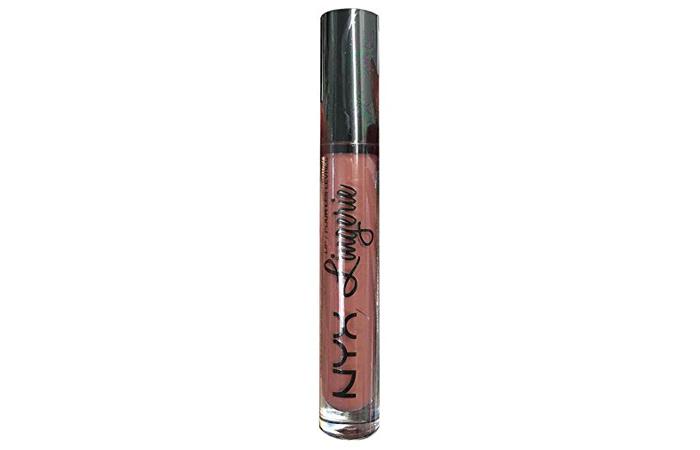 True to its name, this is yet another best-selling NYX lip product. This weightless matte lipstick comes in sultry, sun-kissed shades and will make you fall in love with nudes.
Pros
Long-lasting.
Great color options.
Creamy and soft.
Cons
Lip Lingerie Review
The best things about this product are its skin-kissed hues and the creamy texture. The warm and nude shades, like warm mahogany, cinnamon pink, and chocolate brown, are irresistible and make your lips look voluptuous and full. These warm colors complement any skin tone. Subtle, stylish, and eye-catching.
Rating: 4.8

17. Liquid Suede Cream Lipstick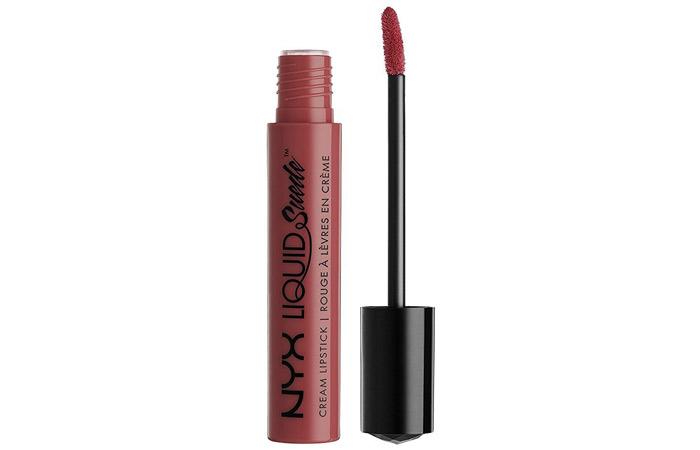 Here is another variant of NYX lip products that is vibrant and fun. This cream-based liquid lipstick is smooth and comes in over 20 colors. Go, grab one today!
Pros
Waterproof.
Smooth and velvety finish.
Vibrant color options.
It gives an even tone.
Cons
Not suitable for dry and cracked lips.
Liquid Suede Cream Lipstick Review
The intensely pigmented liquid suede cream lipstick is plush, long-lasting, and vibrant. You should go for it if you are looking for a polished finesse; the velvety texture leaves no scope for color bleeding and is surprisingly not watery, unlike other liquid lipsticks. The chubby plastic container and applicator are appropriately color coded. It lasts for a few hours but needs touch-ups after every meal.
Rating: 4.5

18. Gotcha Covered Concealer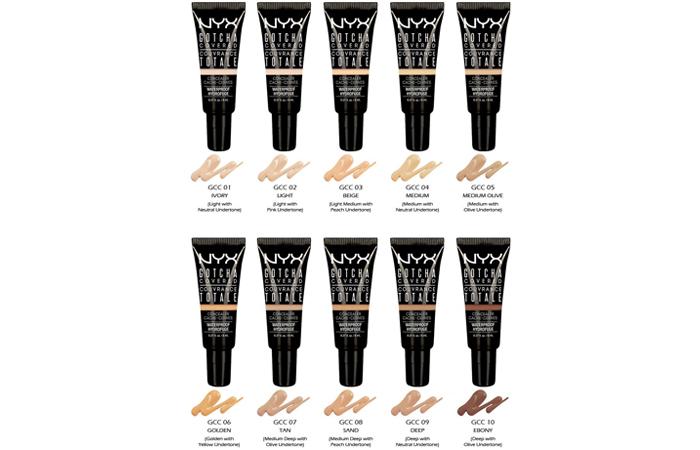 Here is another top rated NYX product for you. Staying true to its name, this liquid concealer is waterproof and gives you full coverage. It doesn't make your skin look cakey or greasy. It is infused with coconut oil, which leaves your skin looking healthy and nourished.
Pros
Great price point.
Good pigmentation.
Easily blendable.
Waterproof.
Cons
It might not be a great option for oily skin.
Gotcha Covered Concealer Review
A lot of customers love this product because it is extremely affordable. "The creamy texture gives full coverage; most of the blemishes, freckles and acne, become invisible," stated one of the users. I'm constantly on the lookout for a concealer that can naturally camouflage my dark circles, and I was mighty impressed with the way it works. You should give it a shot too.
Rating: 4.5

19. Dark Circle Concealer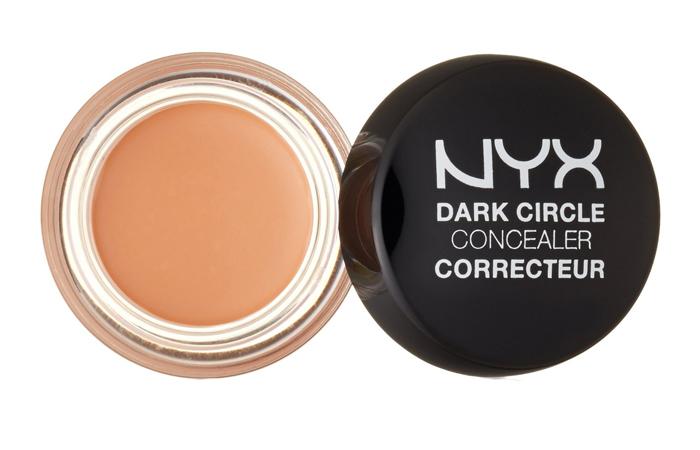 Dark circles are one of the most annoying skin problems. But, fret not. Here is one of the best products from NYX that will help you hide those dark circles. This moisturizing concealer is infused with coconut oil and gives you good coverage. It stays intact without appearing flaky or chipped out.
Pros
Smooth and hydrating.
Easily blendable.
Not cakey or greasy.
Cons
Dark Circle Concealer Review
Here is another dark circle concealer I have tried, tested, and fallen in love with. It blended beautifully into my skin tone. If you prefer simple makeup, you will be one happy customer. You do not even need any fancy brushes as using this is pretty straightforward. An extra coat for pale skin will help. I absolutely love it!
Rating: 4.7

20. Studio Liquid Liner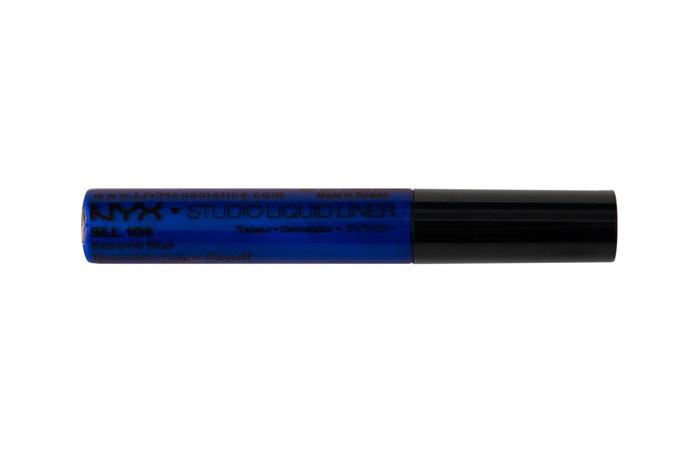 This bold and colorful eyeliner is one my favorite NYX products for obvious reasons. It has an exciting range of color choices that give you a dramatic look. The thin applicator brush helps you achieve a precise and professional finish.
Pros
Vibrant color choices.
Long-lasting.
Cons
It can get clumpy sometimes.
Studio Liquid Liner Review
Customers like it because the dramatic look this product gives to your eyes is no less than what a premium brand gives. It is long-lasting and smudge-proof. It is well pigmented and available in fun shades. A smart and savvy purchase, we say.
Rating: 4.8

*Subject to Availability
There you have it, the top selling cosmetics from NYX. Which ones are you dying to try out? Let us know by leaving a comment down below. Happy shopping!
* – Enlisted prices for all the products may vary.
Expert's Answers For Readers' Questions
Where can we buy Nyx Cosmetics in India?
Offline Stores:
Select City Walk – Saket, Delhi
Palladium – Lower Parel, Mumbai
How to buy NYX Cosmetics online in India?
Most of NYX Cosmetic Products can be purchased online from most of the big e-commerce sites. Here are a few of them:
Online: nykaa.com ; flipkart.com ; amazon.in
Where can we buy NYX Cosmetics in Australia?
Sephora retails NYX products. You can buy them offline from there or from any of the online sites mentioned below.
Offline: Sephora – Melbourne Central Shop, Sydney ; Melbourne Central Shop
Online: rushcosmetics.com ; ebay.com
Where to Buy NYX Cosmetics in Canada?
Offline: Sephora- CF Rideau Center, Ottawa; NYX Cosmetics – 363 Queen St W, Toronto
Online: nyxcosmetics ; well.ca
Where to Buy NYX Cosmetics in the Philippines?
Online: lazada.com
Where to Buy NYX Cosmetics in Singapore?
They are available in any of the Sephora stores in Singapore.
Offline: Sephora Stores – Ngee Ann City – 391 Orchard Road #B1; ION – Plaza Singapura, 60B Orchard Road, Atrium@Plaza Singapura
Online: sephora.com ; lazada.com
Where to Buy NYX Cosmetics in Dubai?
Online: souq.com; desertcart.com
Recommended Articles
The post 20 Bestsellers From NYX You Need To Try Right Now appeared first on STYLECRAZE.