"Beneath the makeup and behind the smile I am just a girl who wishes for the world." ― Marilyn Monroe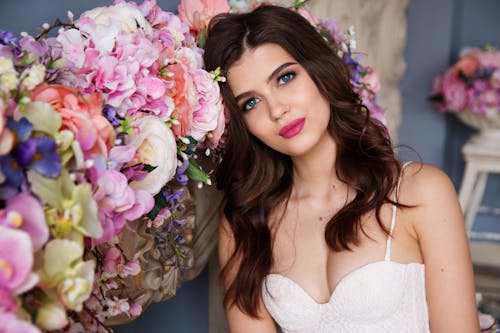 A bride is the centre of attraction at a wedding and with the right attire and correct makeup she has the power that would sweep you off your feet. Every girl is beautiful and makeup is what enhances her beauty. Weddings are one of the most anticipated moments in a girl's life and she wants everything to be perfect on her special day. Makeup is what a bride cares for the most.
In between the constant tussle over what to pick and what to ditch, brides are often confused about not just their outfit but also about the makeup. To put an end to their beauty woes the wedding industry comes up with makeup trends every year which gives the brides #bridalmakeupgoals.
From promising makeup techniques to unusual hairstyles, the makeup trends are just to enhance your beauty make to make you appear flawless on your special day. Trends are there to make you to feel special although to stay in vogue you should follow a trend that makes you to feel comfortable.
If you're a soon bride-to-be then here are some of the latest bridal makeup trends of 2019 that every bride needs to try.
Makeup Or No Makeup Look
Meghan Markle sported a minimalist no makeup look she added to the of charm to her look. Meghan's look captivated the hearts of thousands and gave brides-to-be their #bridalgoals.
Less is more and that is what makes the no makeup look so popular. Retire the heavy makeup look, the minimalist makeup is like a fresh breeze for the brides looking a change.
2. Holographic Makeup
With properly sculpted cheekbones, jawline, and temple on the focus holographic makeup helps in defining a bride's sharp features.
Define your best features with the help of a highlighter.
Subtle and classic this makeup look works best for a summer wedding. Dewy sun kissed skin with a light foundation, bold winged eyeliner and blush pink lips makes a bride to appear radiant and beautiful.
The soft dewy makeup provides a breezy look and complements heavy outfit. The makeup look also works best works well with outfit in pastel shade.
4. Colored Smoky Eye Makeup
Colored smoky eye makeup known to add a bold look that defines the sharp features of a bride.
For a summer wedding coral, bronze, peach and pink colors work best while for winters darker shades look chic. The look is complemented with a bright and bold lip color.
5. Soft Lips
Do you want to make your look a style statement? Then pair your minimalist makeup with soft lips wit the application of lighter shades of pink, brown or rust.
The soft lips for their peppy look have replaced the glossy lips and works well for a day wedding
6. Ombre Lips
If soft lips are not your style then opt for ombre lips. The trend of ombre lips is best suited for night weddings.
A combinations of bright colors like pink, red, wine or peach when mixed together gives the appearance of fuller lips.
7. Glittery Eyes
Glittery eyes are one of the hyping trends of year. The iridescent glitter particle gives a gorgeous pop to the eyes.
A little of glitter makes your eye to appear smaller and sets the glamour quotient high. A lot of glitter enlarges the eye and giving you a fuller appearance.
So while choosing your eye makeup select wisely, go for one that enhances your overall look.
8. Floral Beauty
The timeless beauty of flowers never seems to fade away. The sheer elegance of the flowers makes it girls second love, first one is obviously diamonds as they are forever. The power of flowers enhances the beauty of a bride.
From gajras made of roses, peonies, lilies and hydrangeas to floral kaleera made of roses, mogras, orchids choose a design and style that complements your attire.
9. Fun With Hairstyles
2019 is all about playing with hairstyles. From a French braid to a simple bun choose a hairstyle that goes with your dress.
Experiment with your hairstyle to get the look of your choice.
So which look are you sporting at your wedding? Tell us in the comment below.
Thanks for reading!
Please subscribe and follow us on Instagram, Pinterest, Twitter, and Facebook
Do you believe the hype? Sound off in the comments.
Check out more Trending Topics from Viva La Vibes